Our clients have a lovely Victorian home in Welling, however its pebble-dash exterior and certain interior features were leaving the property wanting.

They asked us to transform these aspects of the home, restoring its external brickwork and completely replacing the conservatory extension.

This before and after tour will give you a snapshot of what Sentinel Design and Build was able to achieve.

Restoring the home's original character
Pebble-dash is rarely a welcoming site these days, and our clients felt it made their home feel out of character for the area.

We stripped away the render and carried out extensive cleaning and restoration of the brick work. The 'facelift' effect has brought colour and charm to the front exterior.

Existing extension replaced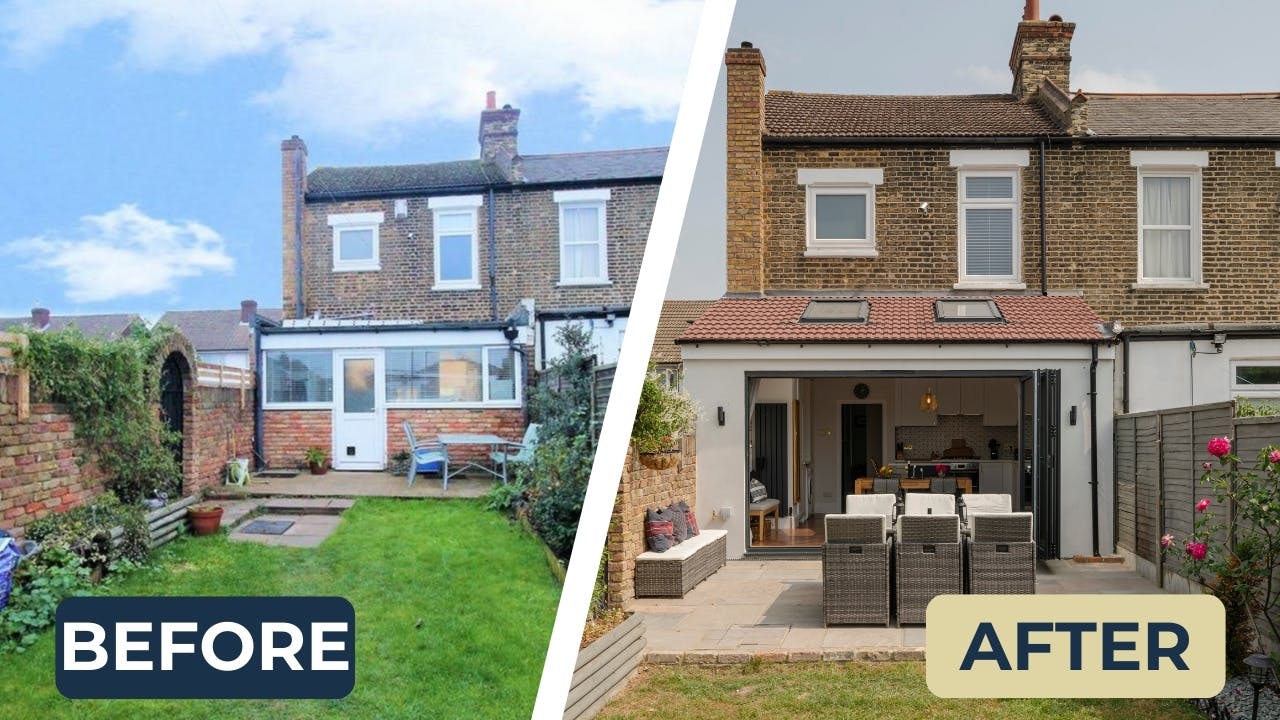 A previous, flat-roofed conservatory was replaced with a new home extension that is more substantial, modern and charming.

Skylight windows give the additional room natural light in the daytime, while full-width bifold doors open the extension and kitchen out onto the patio to create a larger, more fluid and functional indoor/al fresco space.

Our roofing team built the tiled, sloped roof which is in character with property's existing roof and brick work.

Open plan kitchen and dining area

The new extension enabled a reconfiguration of the kitchen, combining it with the extension to create an open-plan area for cooking, dining and socialising.

A completely new kitchen was installed, including an island, new range and extensive cabinets for storage. The space extends into the dining area which includes a space-saving modern radiator installed by our plumbing and heating team, and wall-mounted TV for entertainment.
That extension revisited

If you're looking for inspiration for your own property, here you can see how a boxy conservatory installed 20 or 30 years ago can be replaced with a home extension that better suits 21st century living.

Installing structural a steel joist enabled us to knock through the old kitchen wall creating a multi-use space for food preparation, dining, socialising, entertainment and more, because it opens out seamlessly onto a substantial patio.

Get in touch

To find out more about our home extension, kitchen installation and restoration services, call 0800 292 2128 or email contact@sentineldesignandbuild.co.uk.