Before and after: Renovating an urban cottage in Red Lion Place, Shooter's Hill

Red Lion Place is a cosy cottage, which is off the beaten track in the Shooter's Hill area of Greenwich. The owner had a range of ideas for how she wanted to transform the property and turn it into a tranquil dream home, full of eclectic detail to inspire creativity.

As well as demolishing and replacing a side extension, Sentinel Design and Build reconfigured the living space substantially creating a larger kitchen and living area, a bigger bathroom space and unique home office area.

Here are a few of the highlights showing before and after the renovation. It's a project that demonstrates how a little creativity can go a long way in construction.

Extension: From bathroom to home studio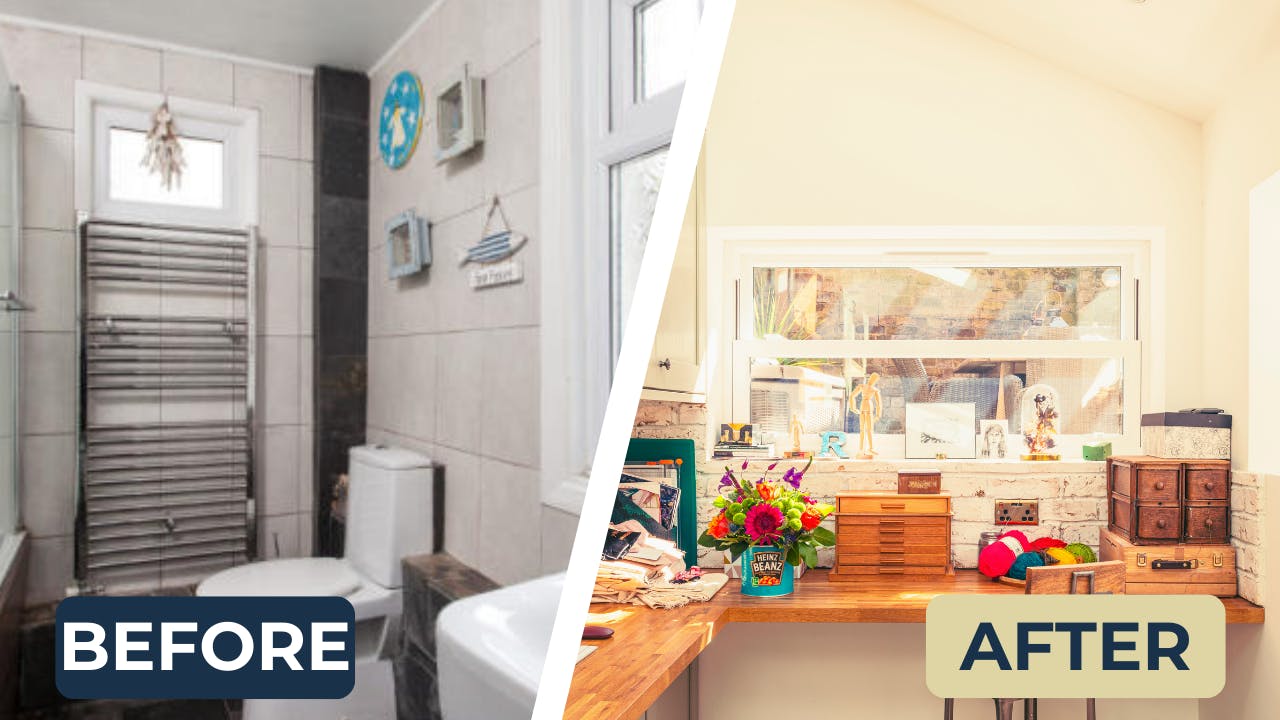 Removing the existing extension, we constructed a new one and because the property was being reconfigured what was once an ordinary bathroom became a fully functioning home studio.

Our carpenters and joiners installed bespoke shelving and cabinetry and the original wall was stripped back to reveal its characterful, traditional brick work, which plays well against the natural wood grain textures of the shelving and work surface. Skylight windows installed in the roof flood the area with natural light.

Tranquil bedroom transformation

It's the little details in the bedroom that make the space a haven of comfort and demonstrate the extent of the work we did.

The room has been completely redecorated, with midnight blue paint and traditional richly toned floorboards. With the installation of underfloor heating by our plumbing and heating experts, it was possible to remove the radiator for a sleeker all round finish.
Luxurious bathroom area

It's pretty unusual to turn a kitchen area into a bathroom, but that's what happened with this project as the ground floor extension made a new kitchen installation possible elsewhere in the property.
The reconfiguration facilitated a much larger bathroom area, made luxurious by the inclusion of an extra-size double basin unit, new lighting, a traditional mirror and a fanlight window strip to make the most of the sunlight.
A stylish sitting room

The lounge is another room in Red Lion Place that demonstrates how little changes can refresh the character of a room, and a home.
Lowering the bed of the fireplace made it possible to install an iron stove, which is more energy efficient than an open fire, with a hearth added to make the chimney and fire a focal point in the room.

Again, underfloor heating negates the need for a clunky radiator, meanwhile we added more robust shelving and storage cabinets in the alcoves. Traditional floorboards have a nicer feel than laminate flooring every time.

Get in touch

To find out more about our home refurbishment, extension and kitchen and bathroom installation services, call 0800 292 2128 or email contact@sentineldesignandbuild.co.uk.